Ro Laren and Riker have just walked into my office.
This is most unusual, as the two of them usually can't stand each other. Ro isn't the sort that likes authority, and I must admit that Riker is a little tough on her.
One thing I know is that they are not here to announce their engagement and get married.
"Captain." starts Ro, "I think you ought to know that..."
"I think I'd better tell Captain Picard about this,
Ensign
." interrupts Riker, "After all it is very important."
"Oh, I see!" Ro tells him, "So I'm not important, then?"
I roll my eyes; more squabbling between the two of them. Sometimes I feel like I'm an umpire getting battered about between the two, and I'm the only one who gets a black eye.
"I don't mean that." Riker tells her, "But let me tell the Captain."
"Tell me what, Number One?" I ask him pleadingly, hoping they will get to the point.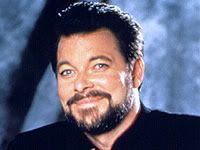 "It's like this." starts Riker, "On our last visit to Callus II, I had to pass through Starfleet security. They refused to let me pass, as they have no notice of me in their records. I had to stay on the
Enterprise
."
"The same thing happened to me!" Ro tells me, "I thought it was a glitch until I looked on the
Enterprise
records. There was nothing there to say that I had ever been with them."
"I saw Ensign Ro doing this." interrupts Riker, "And did it myself. I didn't exist either! The two of us have talked and found it was just us who have been deleted."
"Maybe it is just a computer error." I helpfully offer, "Who knows, you might be back on again soon?"
That a pointless remark, and they both know it, particularly Ro.
"That doesn't get us anywhere!" snaps Ro, "We aren't allowed to do anything on the
Enterprise
as we are technically civilians."
"That is true." I tell them, "As you are civilians, I'll need to confine you to quarters. Will and Ro, it's the only thing to do."
Ro looks at Riker in anger, like she does when knowing the Cardassians are coming to visit.
"See what he's done?" she explodes, "He's even dropped our titles. We aren't
Commander
or
Ensign
anymore! You certainly aren't
Number One
."
"This is all rather extreme, isn't it, Sir?" comments Riker.
"I'm only following rules, Mr Riker." I tell him starchly, "You and Miss Laren will need to be careful what you see as civilians here."
Starfleet regulations are painful sometimes; they don't win many friends. I might regularly break the Prime Directive, but there are acres of other ones around I have to adhere to.
Ro whispers to Riker; he nods. Suddenly they run out of the office, easily overpower Security and take charge of a shuttle and fly out from the
Enterprise
.
I get a message from the shuttle.
"Sorry to do this, Captain." says Riker, "Ro and I have to find out why we have been deleted from all records."
The shuttle flies off into warp.
"Should we not pursue them?" asks Data.
"No, let them go." I reply.
--------
Good luck, Will & Ro. I knew they would do something like that. My secret code call to security allowed them to leave without a problem. It was a good way of circumventing the strict Starfleet regulations.
I just hope Starfleet don't ask how they got away so easily!
To be continued....