Guest Poster: Ro Laren
With Captain Picard and Beverly Crusher having a fun time at a beachside medical conference, Commander Riker is in the chair. We have some across a small ship of unknown origin. Myself, Worf, Data and Jennifer Baxter haved beamed over to investigate. A force fierld has prevented us from beaming back, and we can all hear an ominous ticking.....
Data comes across a console, and we see a countdown clock with just a few minutes to go.
"It looks like in a few minutes we shall be no more." Data calmly says, "It is fotunate that I have my girlfriend Jenny by my side at this time, though I would rather she be safe."
"It is a good day to die." Worf comments in a typical Klingon manner, "So sad that I will no longer be with my wife Jadzia. How fortunate that we married recently."
"Listen to the pair of you!" Jenny says in exasperation, "You are a right pair of doom-mongers! Let's try and solve this.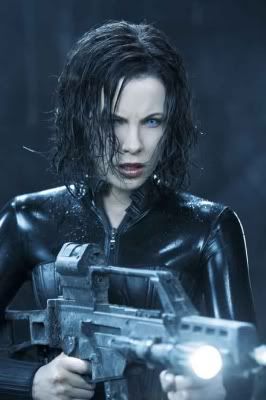 Jenny aims her multi-phase disruptor at the device, but nothing happens.
"What's happened, Jen?" I ask, "Have the batteries worn out?"
"It's not battery powered!" Jennifer replies starchily, "It is nuclear powered and cannot run down."
"My tricorder indicates that a high energy field is preventing all weapons from working.
"We have to do something!" Worf shouts irritatingly.
"I agree." Jenny answers, "Data and I were meant to be trying a hot new program in the holodeck tonight."
We alll look in horror as the countdown nears zero,and our lives flash before our eves, or in Data's case, through his circuits.
The clock reaches zero and an voice rings out:
"DON'T FORGET TO TASTE A DELICIOUS GALACTIC ROLL AT MARTY'S DINER. MARTY MAKES THE BEST GALACTIC ROLLS IN THE QUADRANT!!!! YOUR CAN FIND HIM ON FARSA IV!!!!!"
The voice stops and the forcefield is lifted. We all beam back.
"Are you all right?" asks Riker, "Whatr happened?"
"Set a course for Farsa IV" says Jenny angrilly, "Us four need to wring Marty's neck."