Guest Poster: Beverly Crusher

All of the female senior staff are assembled in Jean-Luc's Ready Room, together with the Captain of the
USS Rhode Island
, Erika Hernandez. The reason is my daughter in law, the amazon Karena is having her baby shower. Her daughter will come sometime next month.
Karena is looking like a child at Christmas, rather than an expectyant mother!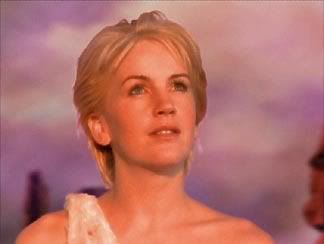 "Okay." she declares, "It's time for the pressies! Bring 'em on!"
The amazon looks eagerly over the assembled parcels and grabs one.
"That one is from me." Jadzia pipes up. Karena opens it to find it is a minature bat'leth.
"Super!" exclaims the amazon, "My daughter will really enjoy playing with this."
I wince slightly, but Karena insisted omn having presents that were suitable for a female warrior, rather than the average mother and baby. Well, Karena is no average mother!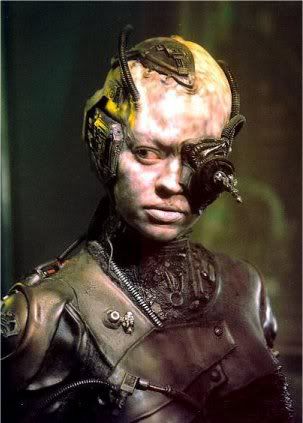 "I was confused about what a baby shower is." Seven whispers to me, "We do not have this on a Borg Cube, "All we do is assimilate them."
Karena opens a box that is a Borg doll, which has all moving parts. She looks pleased.
"That's a great present, Seven." the amazon says gratefully, and moves on.
My daughter in law's face falls flat when she gets my present of a Barbie Ensign doll, as it doesn't look tough enough, but Karena puts on a fractured smile.
Deanna gives a present of a box of diapers. She had clearly forgotton about the instruction I gave to everyone.
Jenny gives as a present, a beautiful spear, small in scale, but powerful enough for a young amazon warrior.
"This is the best pressy yet!" exclaims Karena, "Where did you get it, Jenny?"
"Off AmazonBaby, of course." she replies, "Amazon, who specialise in items for the warrior woman, has opened a new department for children."
Erika gives an anazon bandana as a present, while Ro Laren presents Karena with a target board so the child can throw weapons at it.
T'Pol and Britney are the last. They step forward together.
"This is from us." Britney declares, "I hope your and your daughter love it."
When Karena opens it, she sees it is a beautiful and small warrior outfit.
"When your daughter grows into a young girl." T'Pol says, "She can defeat all her enemies wearing this."
Karena is overjoyed.
"You've really excelled yourself." she says, "Thank you everybody for these fantastic gifts."
"It's our pleasure." Deanna comments, "Can we ask what name are you going to give to your daughter?"
"Not yet" Karena replies, "I'll announce that later."
--------------
A few moments later, my daughter in law and her Captain are ready to beam back to the
USS Rhode Island.
That granddaughter of mine is going to have quite an upbringing!