We seem to find ourselves in somewhat of a pickle.
As Deanna, Jenny Baxter, the Borg Queen, her Leader the Alpha Borg Queen, Seven, Worf and his Security Team have beamed to the Borg Citatel to wrest back power from the Troi Borg Queen, whose hardline agents took over the running of the borg in a coup.
Now we find ourselves ambushed.

"So." says the Troi Borg Queen, "I find all my enemies together. That will be so much easier than seeking you out. The weakling former leader and her servant, together with drippy Seven. Not only that, I have Locutus and Deanna, the person I wanted most of all."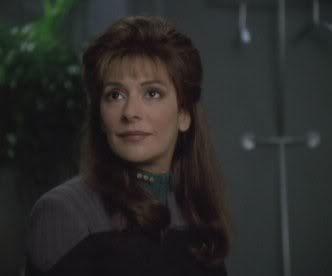 "Surely you can remember how it used to be for you before you were assimilated in your universe?" pleads Deanna.
"Oh yes." the Troi Queen replies, "I was just like you, an empty headed Counselor who liked shopping and wanted to get married. Being assimilated changed all that. Deanna, as soon as you feel those Borg nanobytes flowing through your veins and are connected to the Hive Mind, you will thank me for making your life complete. You will be my second in command.No one else will get that homour."
"No thanks." Deanna replies flatly.
"You have no choice." she comments, "I will disconnect these three Borg and have you in the Assimilation Chamber first."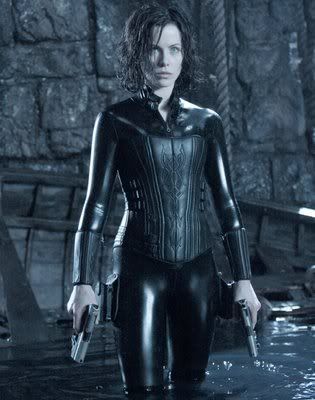 Jenny gets get ready to fire with with her guns, but the Troi Borg Queen notices, and gestures her drones to hold her.
"Please don't try, Miss Baxter." the Borg says, "You will just end up disintegrated if you try. It would be such a waste of a skilled future drone. I think you would get promoted in the Cube hierarchy very quickly."
Sudenly, there are flashes of beaming in-lights all around us. Riker, Beverly Geordi, Data, Jadzia, T'Pol and Britney all appear...very heavily armed.
"This is what you might call our back-up plan, Captain." Riker tells me, "We were monitoring the situation and saw you were surrounded with too many Borg, so we thought we'd even things out."
"What shall we do with the Troi Borg Queen?" asks Beverly, who has helped disarm the hardline drones and the Queen herself.
"Execute her!" Seven snaps, "She has commited treason against our great Leader."
"Indeed she has." remarks the Alpha Borg Queen, "Yet we cannot execute her. She has too many supporters in the hardline part of the Borg. If she is executed, she would be a martyr and inflame the situation."
"Then what should we do?" I ask.
"If she agrees to get her forces to stand down." says the Borg Leader, "We shall give her command of her old 02 Cube, and things will be as they were before."
"Very well." says the Troi Queen, glumly, "I accept the terms.". With that, she walks out of the Throne Room, defeated.
"We thank you, Locutus." the Alpha Borg Queen, "Due to the people of the
Enterprise
, the moderate Borg regime is back in place."
As we all leave, I am called back by the Borg Queen, who wishes to talk to me privately. She looks around to make sure no one else is around.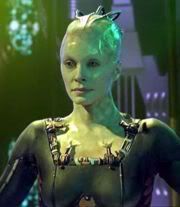 "Thank you, Jean-Luc." she says with great feeling, and kisses me passionately on the lips.
"You've never called me that before." I say.
"Just between ourselves, Jean-Luc." she tells me, "Though with others around, it will be Locutus. Goodbye fort now. Until we meet again."
I get ready to beam out, although I feel I have been hit by a brick!
If Bev had seen all that, I probably would have been!